Review : It's not Summer without You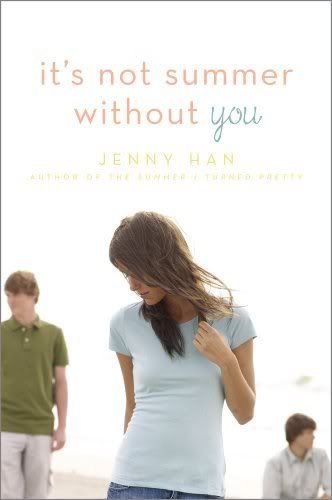 It's not Summer without You by Jenny Han
Pages : 277
Genre : YA, Fiction
Series : Book 2
My Rating :

From the author's website :
Last year, all of Belly's dreams came true and the thought of missing a summer in Cousins Beach was inconceivable. But like the rise and fall of the ocean tide, things can change–  just like that. Suddenly the time she's always looked forward to most is something she dreads. And when Jeremiah calls to say Conrad has disappeared, Belly must decide how she will spend this summer: chasing after the boy she loves, or finally letting him go.
I borrowed The Summer I Turned Pretty from the library last year and absolutely fell in love with it – so much so that I went and bought my own copy of it. Of course, after enjoying it so much, I was happy when I learned the author was planning a sequel, which is It's not Summer without You.
While I did enjoy the book, it didn't have as strong an impact as its predecessor had – although the book has one of the saddest beginnings I have read. I was happy to reunite with the characters and to follow Belly once more, but I wasn't as taken by the story.
For me, part of what worked less in this book is the introduction of Jeremiah as a narrator. He's not that much present and Belly still narrates the biggest part of the story, but his brief interventions seemed a bit unnecessary. Most of what he said was either already understood between the lines of Bella's narration, or could have been introduced by it. His chapters, even though they were small, broke the pace of the story. That's just me though; many of the reviews I've seen were highly positive on this aspect!
I thought the storyline was strong though, and definitely presented different aspects of the characters personalities. Belly, Conrad, Jeremiah and their parents are everything but unidimensional. I can easily relate to them, which makes their joy and their hurting even more real. I'm still not sure what I think of the conclusion; I think Bella still has much more thinking to do before going further, but who knows, right?
I absolutely can't wait for the third book; it feels good to find a series that can captivate me so much without the use of paranormal creatures!
Series Reading Order :
It's not Summer without You
We'll always Have Summer (coming 2011)