Review : Lies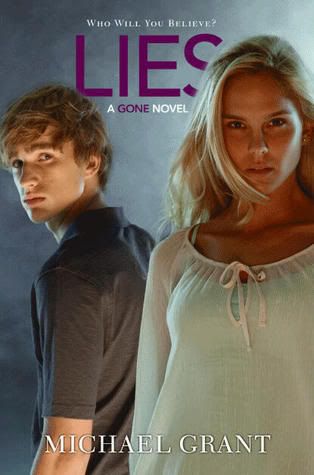 Lies by Michael Grant
Pages : 447
Genre : YA, Speculative fiction
Series : Gone, Book 3
My Rating :

From the Back of the Book :
It happens in one night: a girl who died now walks among the living, Zil and the Human Crew set fire to Perdido Beach, and amid the flames and smoke, Sam sees the figure of the boy he fears the most – Drake. But Sam and Caine defeated him along with the Darkness – or so they thought.

As Perdido Beach burns, battles rage: Astrid against the Town Council; the Human Crew versus the mutants; and Sam against Drake. And the prophetess Orsay and her companion, Nerezza, are preaching that death will set them all free. As life in the FAYZ becomes more desperate, no one knows who they can trust.
I have one word : Wow! Grant definitely knows how to captivate an audience!
I had been looking forward to reading Lies, and I'm glad to report it was a worthy successor of the first two books. It wears its name well, too, as the kids learn that the line between truth and lie is a dangerous one.
I loved the pace in this novel; it was a bit shorter than the two previous books, which kept everything tight with no slow moments. The action – and the horror – just never stopped! And that without putting aside the characters, which for me is extremely important when reading an action-packed novel. If you want me to feel the terror, you need to make me care about the characters, and Grant certainly did that.
His huge cast of characters allows him to explore the numerous ways people could react in such a situation, in ways that felt very realistic. I am also happy to report that Sam and Astrid take different directions from the previous books. In Hunger, I was becoming more and more annoyed with those two main characters, especially with Astrid. In Lies, she finally faces some difficulties of her own that force her to accept that, genius or not, she doesn't have all the answers.
I also loved the role Orsay played in this book, and how the "prophecies" came into play. I don't want to spoil too much though!
I can only recommend this series to fans of dystopian, horror, ya novels. Grant's third tome of the Gone series was hard to put down and completely terrifying. The wait will be insanely long until book four!
Series Reading Order :
Lies
Plague (coming 2011)