Artsy Shelf – 11- The Trees
Many movies and book sset their most scary scenes in the woods. The forest is a place of strange sounds and mysteries; it's no surprise then that many books use trees and branches to create an intriguing cover!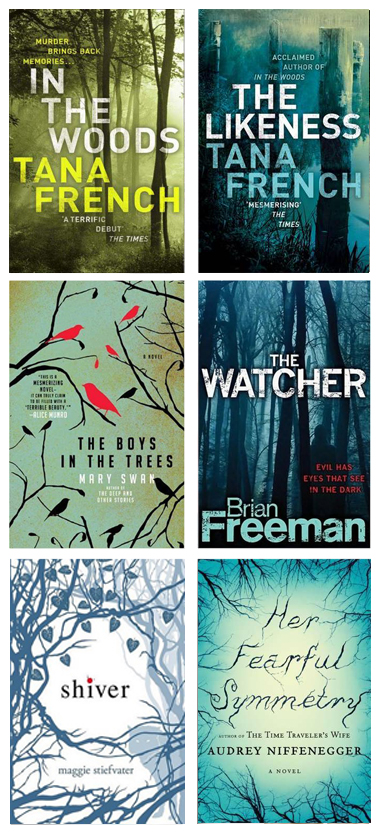 By now, I'm sure you've noticed it too : Brian Freeman's The Watcher looks a lot like Tana French's covers, especially The Likeness. Not only are the images similar, but the title and author's name are in similar fonts and colors. The only reason I noticed this look alike was because someone at the bookstore had placed them side by side; an employee with a sense of humor, maybe?
Now, do you think one cover inspired the other? Or is it a simple coincidence? Some dates :
In the Woods : December 2007
The Watcher : December 2008
The Likeness : August 2009
I think it might be a simple coincidence, but Freeman has something on his cover that French doesn't have : an awesome blurb-thingy! "Evil has eyes that see in the Dark" I don't know why, but it sounds hilarious to me! Probably because it sounds like a lolcat caption. Perfect for a basement cat!
I like the three other covers, which are similar : branches all around, title at the center. My favorite though, is The Boys in the Trees. I find the cover poetic, and it reminds me of chinese calligraphy paintings.
So, do you have a favorite? What do you think of the Freeman-French similarity?