Review : The Summer I Turned Pretty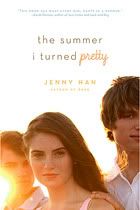 The Summer I Turned Pretty by Jenny Han
Pages : 391
Genre : YA
My Rating : 

Belly measures her life in summers. Everything good, everything magical happens between the months of June and August. Winters are simply a time to count the weeks until the next summer, a place away from the beach house, away from Susannah, and most importantly, away from Jeremiah and Conrad. They are the boys that Belly has known since her very first summer — they have been her brother figures, her crushes, and everything in between.

But one summer, one wonderful and terrible summer, the more everything changes, the more it all ends up just the way it should have been all along.
The Summer I Turned Pretty was a book that I first judged by its cover and title; I thought it would be a superficial story filled with silly romance. Then I read Steph's review at Steph Su Reads, and I decided to give it a chance. I'm so glad I did!
It took me less than a day to go through this book and it was an amazing read. Han's writing style is effortless and Belly's voice sounded very true to life, or more exactly to a teen's life. I loved how the chapters alternated between the current summer and the ones preceeding it, with no chronological order. This gave you some insight into Belly's life, since the summers she talks about are always linked to something going on in the current one.
There is no big plot in this book, no oh-my-God twist, and no, contrary to what I thought, silly romance. Instead, the book is all about the characters relationships and how they progress together. It's about love, yes, but also about friendships and family. I could feel the characters' chemestry through the pages and I loved all of them, each for their own reasons. I also liked how "summery" the book felt; I could almost feel the sand between my toes!
I'm not sure I can do justice to this book with my review; I loved it in a way that was really hard to explain. It wasn't that much about how I liked the story or the characters, but more about the feeling I got while reading it. I only wish the ending had been a little less open, but I still enjoyed this book more that I thought I would!
If you want to know more about this book and its author, you can take a peek at Han's website (I really like its cute design!)