August reading recap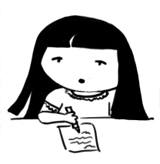 August is officially over!
It's been a slow reading month, but mostly I can blame the Man of the House for that : he was off work for two weeks, so I spent lots of time entertaining him!

But seriously, his presence home meant we got to spend lots of time together and we went to visit family, and we had an awesome time! But it did mean that I read less, with a total of 11 books. It's not bad though, probably more than I'll get to read in my next university semester! Just less than I read in the summer months.
The Vampire Diaries : The Fury and Dark Reunion by L. J. Smith
Twenties Girl by Sophie Kinsella
Before I die by Jenny Downham
The Ghost Writer by John Harwood
Artichoke's Heart by Suzanne Supplee
Time of my Life by Allison Winn Scotch
Suite Scarlett by Maureen Johnson
The Earth, my Butt and Other Big Rounds Things by Carolyn Mackler
Destination Art by Amy Dempsey
Me, Penelope by Lisa Jahn-Clough
The Swan Kingdom by Zoë Marriott
I think I have done a better job of reviewing books quickly after reading them this month. I still have a bunch waiting to be reviewed though. I'm thinking that since my reading will slow down soon, I'll probably be able to go through them before the end of the year… right?
And since August seems to have been "blame month" for the Man of the House, a little comic dedicated to him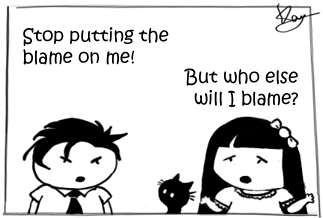 But Seriously, Who?
Not… me? Surely that's not possible?