Review : Artichoke's Heart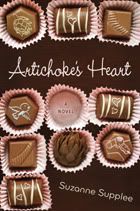 Artichoke's Heart by Suzanne Supplee
Pages : 224
Genre : YA
My Rating : 

Rosemary Goode is smart and funny and loyal and the best eyebrow waxer in Spring Hill, Tennessee. But only one thing seems to matter to anyone, including Rosemary: her weight. And when your mom runs the most successful (and gossipy) beauty shop in town, it can be hard to keep a low profile. Rosemary resolves to lose the weight, but her journey turns out to be about everything but the scale.
I loved this book.
No, wait.
I LOVED this book!!
When my turn finally came to pick it up at the library, I didn't have much expectations for it, despite the good reviews I had read. A YA novel about a teen dealing with weight issues? I was prepared for an obvious storyline of an ordinary girl becoming suddenly popular after loosing weight. In the end, Artichoke's Heart was so much more than that!
Sometimes it's hard to explain why you loved a book so much, and for me Artichoke's Heart is one of these books. There's no fantasy setting; no vampire, no werewolf; no big mystery, no life-changing lesson. What made this book such a great experience was how everything worked so well together; the characters, the storyline, the writing, everything was smooth and funny and sad… It's exactly the kind of book I would recommend to my imaginary teenage daughter!
Supplee created a really good story; although it is predictable, Rosemary is a very believable teenage narrator. Her sarcastic tone hides her biggest issue, and I'm not talking about the weight, but about her low self-esteem.
Mother spent 700$ on a treadmill "from Santa" that I will never use. I won't walk three blocks when I actually want to get somewhere, much less run three miles on a strip of black rubber only to end up where I started out in the first place.
Rosemary hates her body, and yet she can't stop eating; her addiction to food is strong and something she can't control. I think many people will relate to her, for dealing or having dealt with addiction, weight problems, self-confidence, the difficulties of being a teenager, etc.
I also loved how she begins her journey slowly, with some missteps and more or less the right motivation. Supplee's tone is realistic and friendly; she doesn't use the story to give lessons, but simply shows some wrong and some right choices in an evolution that feels natural. In the end, Rosemary learns that it's not that much about getting to a size 2, but more about feeling good with herself and being healthy.
I also loved the characters around Rosemary; they made her town alive and colorful. On top of her weight, Rosemary also had to deal with some serious stuff with her mother, while falling in love, making friends with the beautiful Kay-Kay and dealing with her not-so-nice aunt. Each character had his own little storyline, which made them really complete.
Artichoke's Heart was a light, fun, touching and really positive story. I read it in one sitting and wished it could have been longer (I also wish I had bought it instead of borrowing it!). There is so much more I could talk about, but rather then over-praising it, I'll say only one last thing : read it, and see for yourself.