Filling the Shelf – 1
In the spirit of In my Mailbox, here comes Filling the shelf. It's the same thing, really, just with a name that suits my blog. I'll even sign over there, because it's fun to see what enters each other's house now and then!

Here are the most recent arrivals ;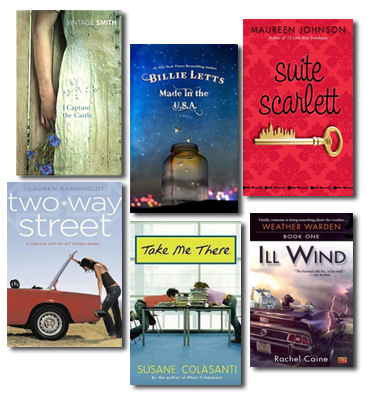 I blame Claire for both Made in the U.S.A. and I Capture the Castle : I won the first at her blog, and the she got I Capture the Castle for her own shelf and I was curious. I saw the movie, and to be honest I can barely remember it but I kept a generally nice memory of it, but I never read the book. I don't know when I'll actually read it but I'd be happy to go through it this summer.
Suite Scarlett, Two Way Street and Take me there are simply YA fiction I've been wanting to read for a little while. I've never read anything by Maureen Johnson or Susane Colasanti. As for Ill Wind, it seemed interesting to have an urban fantasy series that doesn't focus on vampires. It looks interesting and, if it's as good as it's supposed to be, it might be something the Man would read too! I like when we read the same thing.